Ice Fishing In Minnesota - It's Fantastic
Minnesota Ice Fishing at Back O' The Moon Resort on Bass Lake produces nice limits of fish for ice anglers. You'll catch crappies, walleye, northern pike, perch and panfish. Walleye and northern pike season ends in late February while crappie, perch and panfish continue through March. Fresh fried fish from the cold winter waters some how just taste better. We offer plowed roads and a heated fish cleaning house with running water to clean your daily catch.
Ice Fishing Equipment Rentals
Portable 2-man Ice Fish House Rental — $40/day
3-4 man Ice Fish House Rental — $75/day
Ice Auger — $20/day or $120/week
Vexilar Fish Finder — $20/day or $75/week
Minnesota Ice Fishing Information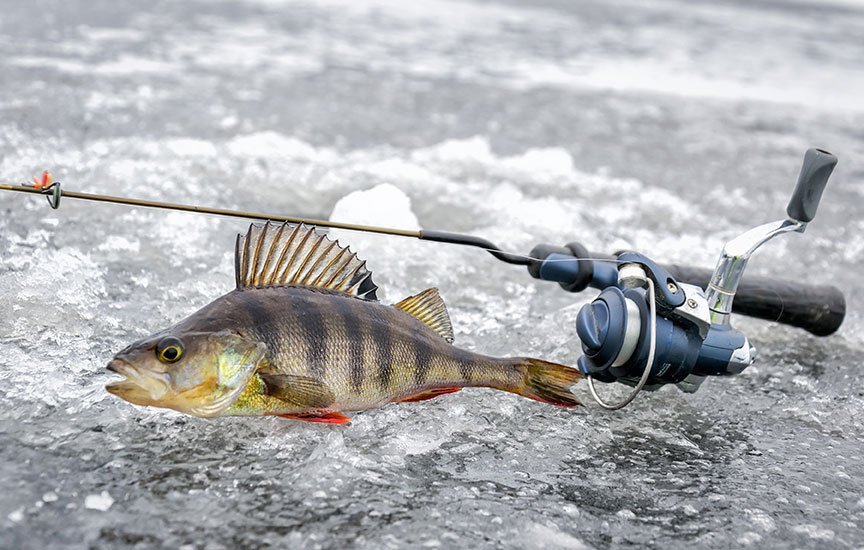 No ice should be considered safe.
It takes at least 4 inches of clear solid ice to support a person on foot, 5 inches for a snowmobile and 8-12 inches for a small car or truck – but ice varies from place to place on the same body of water and sometimes within 10 feet!
Check with local bait shops, resorts etc. as to the current ice conditions
Access the lake through an area resort and try to travel on plowed ice roads.
Consider walking or using a snowmobile or ATV, rather than a car or truck, and avoid ice travel during hours of darkness, when there's heavy snow or fog – drive slowly at all times.
Always let someone know where you are going and when to expect you back.
Avoid areas where there may be flowing water or currents.
Pressure ridges or ice heaves occur, especially on large lakes – these can be dangerous due to thin ice or an obstruction you may hit with a car, truck or snowmobile.
Carry a cellular phone with you – call 911 for any emergency
While on or fishing waters with size restrictions, all fish for which the size restriction applies must have their heads, tails, fins and skin intact and be measurable except when a person is preparing and using such fish for a meal.
When packing fish, labels identifying the fish must include the name of the lake where the fish was caught and the size of each of the fish that are regulated under a special size limit.